Introduction
Are you a dog or cat person? For me I've found dogs make the best companions and I have had several over the years, the last one being a purebred German Shepard named Minnie who sadly got into some rat poison and died.The memories I have of each of them are fresh in my mind and got me to thinking how does this translate to writing?
Loyalty
Dogs depend on us for everything and this breeds loyalty in them. They trust us wholly and will sometimes travel hundreds of miles to find us. Likewise when dealing with readers you want to build a platform and following by producing stellar content on a regular basis. Whether you post once a week, or three times a week like me, make sure it's on the same day around the same time so readers begin to expect it.
Love
Dogs are affectionate and crave attention. I once had a miniature Doberman Pincher named Draco who loved to take socks and hide under the table so you would chase after him. He would do this all the time and after awhile I found if I ignored him he'd lose interest and move on.
Readers are similar in that they will move on if you don't engage them. This is why it pays to have a landing page to build your email list. Without one you may get views but not readers who will returned to your site. Having them opt in for your mailing list gives permission for you to connect with via your newsletter.
Leader of the Pack
Dogs are pack animals and look at you as members of theirs. Fail to establish dominance over them and they will run roughshod over you.
When it comes to readers in order to build your platform you first must earn their attention and then gain their respect as a leader in our niche. You do this by reaching out to people and helping them. this builds trust and will eventually lead to gaining a loyal readership.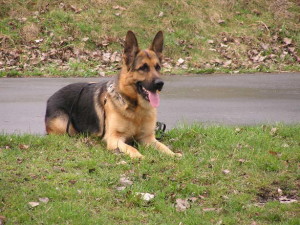 Dogs are loyal, loving, and make for great companions if you put in the time and effort to train them right and take care of them. like wise building a loyal following for our writing takes the proper time and actions on your part to take care of your readers.